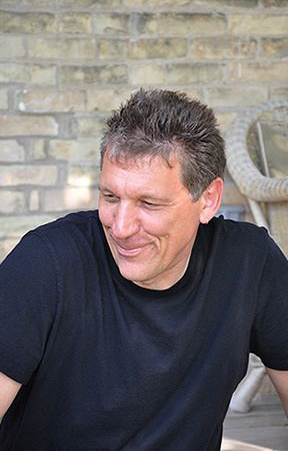 When I set out to create a piece of furniture, I begin with the intent to make something of lasting integrity. Using my knowledge of wood and its changing properties, I strive to create a cohesive, well-crafted object. I work directly from design concept to execution, without making sketches. For me, something gets lost in trying to have the whole object figured out prior to building. Part of the journey of building is the unknown of the finished work. How is it going to end? It is this mystery that sustains my focus on a work from its conception to its completion.
I consider myself primarily a cabinetmaker. A cabinet is often the most curious and intriguing piece of furniture in a home. A cabinet holds things, like secrets. I'm drawn to that, as well as to the level of interaction required with a cabinet. You have to touch it, open it, manipulate it, and work with it. A cabinet also has many moving parts and thus requires a tremendous amount of detail work. Precise and well-executed detail work is a fundamental element in all of my furniture.
Over the years, I have had the opportunity to harvest much of the lumber I have used to create my furniture. This has been one of the most important and lasting influences on my work. It is a humbling process to watch as these large trees, which have stood for hundreds of years, finally die, and become lumber. I strive to assure their second life in a piece of furniture is as noble as their first.
Throughout my career, I have created cabinets in series. The Inner Light series explores the relationship between a cabinet's interior and its exterior. Negative space is incorporated in the façade design, while the top of the cabinet floats above a wide gap, admitting a view of the inside of the case. This design allows light to come into the cabinet via the top and lets the light shine out through the front doors, thereby calling into question the boundaries between exterior and interior.
The Sarcophagus series was inspired by a visit to a display of Egyptian sarcophagi at the Metropolitan Museum of Art in New York.  I was impressed by the paint, the gilding, the carving, and the overall decorativeness of these ancient burial cases.  I also noticed the spacer blocks that lined their bases and incorporated a similar pattern of horizontal details to the façade of my work.   I recently (2018) completed the sixth cabinet in the Sarcophagus series.